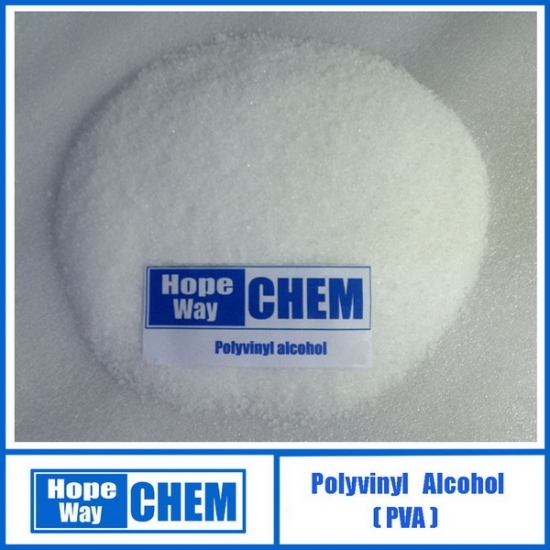 PVA products have a wide range of uses. In the textile industry, they are mainly used as yarn pulp, fabric finishing agents, and raw materials of vinylon fibers; in the construction and decoration industries, they can be used as mortar cement additives, paint additives for the interior and exterior walls, and molding plate adhesives; in the chemical industry, they can be used as polymerization emulsifiers, dispersants, and raw materials for the production of PVF, acetalal and butyral resins; in lumbering and paper-making industries, they can be used as adhesives; in agriculture, they can be used as soil improvers, pesticide adhesion synergist and PVA film; in petroleum exploitation, they can be used as well-cementing agents. In addition, they can also be used in cosmetics, pharmaceuticals, printing, ceramics, steel, electronics, electroplating, and so on.
Physical Properties of HOPE WAY PVA
■
Appearance:
White to ivory granule or powder
■
Specific Gravity:
1.23~1.31
■
Bulk Density:
0.5~0.7g/ml
■
Storage Stability:
Indefinitein dry storage
■
Refractive Index at 20°C:
1.52~1.55(anhydrous polymer)
■
Specific Heat:
1.65~1.67J/g°C( 0.4 cal/g°C)
■
Heat of Combustion:
5.9kcal/g
■
Mean Coefficient of ThermalExpansion:
7~10*10-5/°C
■ Glass Transition Temperature: 60°C(HWPtype)~85°C(HWFtype)
■ Melting Point: 180~190°C(HWP type),230°C(HWFtype)
■
Heat Sealing Temperature( dry,unplasticized):
165-210°C
■
Compression-Molding Temperature(plasticized):
100-150°C
■ Heat Stability: Thecolor turns yellowish gradually when heated above 100°C, turns dark rapidlyabove 160°C.Decomposes above 200-220°C.
■
Flammability:
Burn atabout the rate of paper.
■
Light Stability:
Excellent
■
Effect of Strong Acids:
Dissolvesor decomposes
■
Effect of Strong Alkalies:
Softens or dissolves
■
Effect of Weak Acids:
Softensor dissolves
■
Effect of Weak Alkalies:
Softensor dissolves
■
Effect of Organic Solvents:
Resistantto most solvent
■
Gas Permeability:
Effectivelyresist permeation of gases such as oxygen, nitrogen, and carbon dioxide.
■
Hygroscopicity:
Lesssensitive to humidity than other water-soluble resins.
■ Toxicity: Non-toxic tohuman and animal.
Packing and Storage of HOPE WAY PVA
Packing : Paper-plastic package with plastic film.
N.W.: 20kg/bag or 25kg/bag ( according to customers' request ).
Storage: Store the products in dry, well-ventilated rooms, and pay attention to preventing them from damp and avoid exposing them to sunlight and rain.