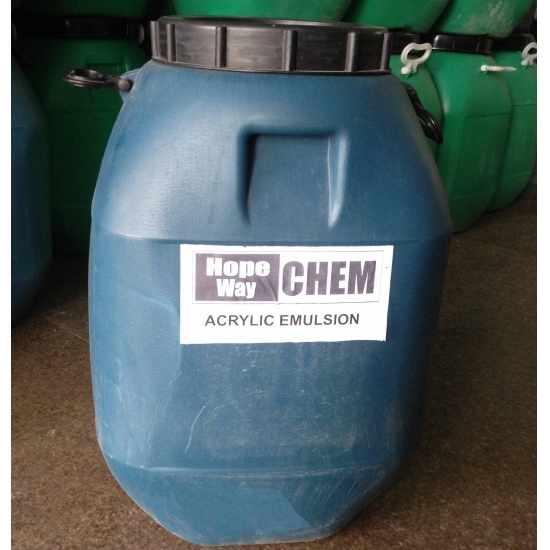 Modified Acrylic Emulsion/emulsion for paint

Product Introduction
The product is a new acrylic emulsion not containing protective colloids, which is obtained by copolymerization of high quality emulsifier, acrylic ester and special functional monomers. The emulsion has excellent calcium ion stability, dilution stability, mechanical stability and freeze-thawing stability.
Features and Applications
1. Low content of residual monomers, low odor and environment friendly.
2. High content of metharylate and excellent weatherability, yellowing resistance, chalking resistance and staining resistance.
3. Using special functional monomers, the paint film is water resistant, alkali resistant, scrubbing resistant and has good adhesion.
4. Using imported emulsifiers, the product has high pigment/filler loading capability and color development.

The product is widely used in top, medium and low exterior and interior wall latex paints and can improve hydrophobic effect in modifier application.
Typical Properties
| | | |
| --- | --- | --- |
| No. | Items | Indexes |
| 1 | Appearance | Ivory, light blue liquid |
| 2 | Viscosity, mPa•S | 500-2000 |
| 3 | Solid content,wt% | ≥48 |
| 4 | PH | 7-9 |
| 5 | Glass transition temperature,(Tg)°C | 27 |
| 6 | Minimum film-forming temperature,(MFT)°C | 25 |
Packaging and Storage
The products are stored in 50 kg or 160kg plastic drums or 200 kg iron-plastic drums.
The products are stored in ventilated, dry rooms and avoid direct sunshine. The temperature for transportation and storage of the product is 5°C - 35°C. The shelf life of the product is 6 months since it is packed